Branded, Cheap and Efficient Braun 3 Series 340S-4 Wet/Dry Shaver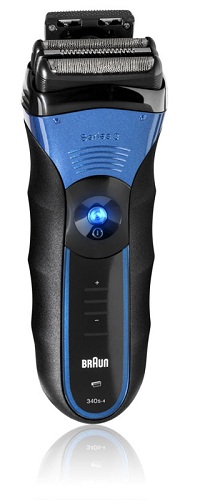 If you are looking for a branded, efficient and cheap shaver the Braun 3Series 340S-4 Wet and dry shaver is likely your ultimate choice. Though price should not be the dominant factor of your buying decision it is always nice to get a great deal. No matter what the price is, the right shaver is always the right shaver.
It comes with the price of an entry level men's electric foil shaver, but boasts features similar to a high end shavers, minus the bells and whistles and extra features found at the higher end of the market. So, if this is the kind of shaver you are looking for why pay more when you can get it for less.
Truth be told, in almost all cases razors of the same series have similar basic functionality. You just pay more for the extra features that you may prefer to do without it. For instance, the 390cc is an upgrade from the 370cc, as the 380s-4 is from 340s-4 and so on. The Braun 380s-4 has a precision lock and a protective case that 340-s doesn't have. It also introduced a 3 stage LED display as an upgrade to the 2 stage LED battery status on earlier model. The higher 'S' series comes with a cleaning system, 4 stage LED display, cartridges and travel pouch.
Check Price and Availability Here
Why Would You Buy Braun 3 Series 340S-4?
This is definitely for you if you shave clean and close every day for work. Even if you have a thick beard it should work well if used on one day old stubble. For thin beards it works very well even on a 2-3 day growth.
Braun Series 3 provides both dry and wet shaving. Presently, this is the only Braun series that features both.
If you don't need the extra features and the cleaning dock/system you can get a great shaver and save some money.
Need low cost replacement Parts?. Series 3 Braun shaver parts are cheap and should not bother you pocket too much. Braun recommends replacing the parts approximately every 18 months. For $20 you get a whole new set of shaver heads.
Looking at the travel convenience, I feel this is more of a home shaver than a travel shaver. Nevertheless, the battery performance is good for travel. You might want to consider ways to pack it safely when you travel.
With its unique foil design, this shaver is intended to capture hairs growing from different directions with ease. It works efficiently with both short and long hair with the triple action cutting system.
SensoFoil Technology directs hairs to the right path and captures them easier than ever. The middle trimmer works hand in hand with the other elements to lift the low lying hair and cut the hair to desired length.
Problems with longer hair is easily eliminated with Triple Action Cutting System. This is very effective for a 3 day beard and skin friendly.
Who should not use this Shaver?
If you have a really thick beard you would inevitably shave over and over the same area and this definitely inviting irritations of your skin. For those of you with thick beards or who shave occasionally to remove a heavy growth, we would recommend upgrading your shaver to a higher level like the  Braun series 7 790cc (review) or another shaver meant for heavy duty performance (check out Panasonic ESLV81-K). As I said earlier Shavers of the same series or sub-series share similar performances, it is the added features that widen the choices and influence the pricing.
Pick My Shaver Verdict
The Braun 3 Series 340S was launched quite some time ago, yet it is still one of the best electric razors on the market. The razor turned up quite early for the party and is still going strong with its innovation and some impressive "latest generation" features. It offers great performance for a price less than $60 at Amazon (with discount). It works like a high end shaver. Without any doubt it holds the position of one of the best selling shavers for the mid-price range. If we are talking about a cheap and reliable shaver Braun 3 series 340s-4 is still our #1 choice.