Braun Series 5 5090CC Shaver with New Flex Motion Tec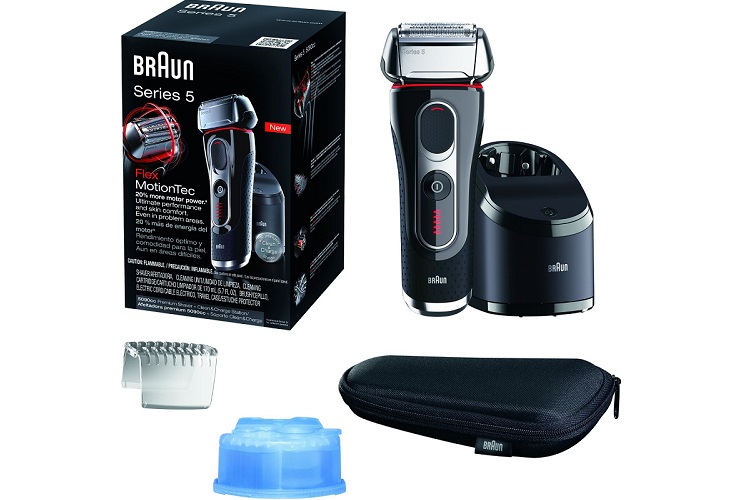 Series 5 5090CC Check Price and Availability Here
Braun series 5 5090 electric shaver is here for those who have sensitive skin for maximum comfort while delivering the closest shave.
The Best Features of Braun 5 5090 Series at a Glance
New Flex Motion Tec– This new technology enables the closest shave without putting much pressure on your skin. This is one reason why most people with sensitive skin experience less irritation with 5090. The shaver has three times better adaptation compared with other series of Braun shavers.
What is Good About This Feature?
The individual suspension of the elements allows detection of even the slightest contour of your most difficult area of shaving for smooth performance shaving.
It has five angular steps with a pivoting head for a comfortable shaving ranging from 0 to 2 steps forward and 0 to 2 steps backward.
If you have skin irritation while shaving, try this shaver for smooth shaving without any irritation, redness or rash.
New Power Drive– The Braun 5 series has a 20% more powerful motor for efficient high-speed shaving compared with other Braun shavers. There is no issue even with the  densest beard, you get a clean and close shave.
Charge Station– This is the first of its kind in the world, performing four functions at a time; it cleans, lubricates, charges and selects a cleaning program so that it is ready for the next shave. Your shaver looks like new every time you shave after a thorough clean with alcohol based liquid.
Quality-It's a quality product from Braun, made in Germany with the highest standard and lab tested to last for at least seven years.
Opti Foil Design: TheOpti-foil design of this shaver is made to capture more hair and gives you the closest cut you have ever had.
Active Lift: Flat lying hair is difficult to get hold for any shaver, but not with this one because of the presence of the world's only patented middle trimmer. If you have the need to trim your facial hair or side burns, you can quickly slide the trimmer up and get it done easily.
How Good is The Battery Life?
Battery life is not different from most of the Braun series of shavers, which comes with a Li-Ion battery. One hour of charge gives you cordless shaving of 45 minutes. For a single shave you can do a quick 5 minutes charge. It also has a battery life indicator light.
Appearance: You could not expect to have a better looking shaver in this price range. The shaver's dimensions are  6.2" X 6.2" X 10". It is sleek and lightweight with a dotted rubber grip for a firm and comfortable hold while shaving. It has five power level  indicators so  you can check the power level to ensure uninterrupted shaving.
Negative Points
Some users suggest that the on board cord is to short for easy, regular corded shaving.
The cleaning cartridge needs replacement from time to time, which is unexpected for a high-end shaver and means extra expense.
Sometimes you need to glide back and forth to catch long hair which is missed on the first pass. To be very honest, it works best for short hair, (which is true for any shaving), For best performance, trim longer hair to a suitable length for excellent one pass shaving.
It does not give as close a shave as a manual razor blade. This shaver is for those who shave best when the skin is dry. If you are looking for same series with wet/dry functionality, you might want to considerBraun Series 5 5040S model which is in a similar price range.
A Quick Comparison with other series
Braun series 5 5090cc does not have Intelligent Pulsonic technology unlike the Braun 7 790cc. The Braun 7 790cc takes 50 minutes to get a full charge whereas Braun 5090 takes 45 minutes. As for the rest, it has the same features and technology but the Braun series 5 5090 is better than 3 series shavers like the 380cc, with the pivoting head and advanced middle trimmer, whereas the Braun 3 Series 340-S comes with a wet/dry feature for more flexibility.
Advantages
It is very light to take with you when traveling,with a hard case included in the package.
It has a long lasting battery life so, there is no problem taking it with you on a trip without the charger. Despite its "shortish" cord, it also has the advantage of being able to shave while it is plugged in, if caught out with dead battery, which really should not happen too often given that a battery display always reminds you when you should charge again for the next shave. It comes with a standard voltage of 100v to 240 volts.
The adjustable pivoting head gives you a closer and better shave in a less time due to high motor power.
Guarantee and warranty: The manufacturer gives 60 days money back guarantee and a limited warranty of two years.

My Final Thought
It has excellent looks and offers excellent features for the price. To be very honest, it does not give you a close shave like the closeness of a razor blade. However, if you do shave regularly this is the right shaver for you. As others have said, it is very gentle even for the most sensitive skin with its new technology.