Panasonic ES-LA93-K/ESLA63-S Arc 4 Wet/Dry Shaver Review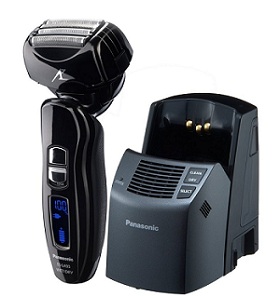 Here is the thing with this shaver – it's presently the world's fastest linear motor, and will give you a guaranteed close and clean shave which many other electric shavers fail to deliver. Now the obvious question,…. is it expensive? Priced below $200 , it costs less than the   Panasonic Arc 5 Blade System (the latest model) that has the same motor output of 14,000 cycles per minute. So, this shaver is certainly a bargain. It used to be a lot more expensive until Panasonic released the latest Arc 5 unit.
Check Price and Availability Here
Difference between Panasonic ES-LA93-K Arc 4 and Panasonic ES-LV81-K Arc 5
The only major difference to consider between the Panasonic Arc 4 and Arc 5 is the extra blade on the Arc 5. It may not be worth the extra cost for many people, especially if you don't have a very thick beard. If you looked at one or two Panasonic ES-LA93-K reviews, users are very impressed with the performance, including those with thick beards.
However, the Arc 5 shaver sports a 5 blade system and it's a bit faster but not a significantly so, I would say. Arc 5 looks more graceful with sleeker lines and a more attractive handle area. It also incorporates Lift-Tech Foil technology which helps to capture flat lying hair more easily. But that comes with a price difference of about $150! If you're interested in Panasonic's highest end model with every bell and whistle Arc 5 is still an ideal choice, otherwise Arc 4 will serve the purpose for many of us.
Difference between Arc 4 ES-LA93-K and Arc 4 ES-LA63-S
The only difference between the two models is the absence of  the "Automatic Cleaning and Charging  System" with ES-LA63-S. You need to manually clean the shaver if you buy the ES-LA63-S model. The shaver cap can be easily removed to either clean or replace the shaving blade. Cleaning by hand is easy under running tap water for both the models unless you consider this daily routine tedious.
Nevertheless, when you use the cartridge it might contribute to a cleaner result because of the detergent in the cartridge. It's more convenient and also gives a fresh smell every time you shave which is nice. Also, it charges and dries the unit automatically when it cleans.
Unlike the Braun Clean and Renew cartridge, this one is not an alcohol based cleaner and won't evaporate between uses or irritate your skin. One cartridge can last for two months. Sounds like an ideal choice over its competitors.
If you have a tight budget or don't mind cleaning your shaver after every use you will get a better price deal with Panasonic ES-LA63-S Arc 4. There is a price difference of around ……………$70! I can understand some of us choosing Panasonic ES-LA63-S with that sort of price difference.
Click Here to Read Customer Reviews on Amazon
What is impressive with the Panasonic Arc 4 shaver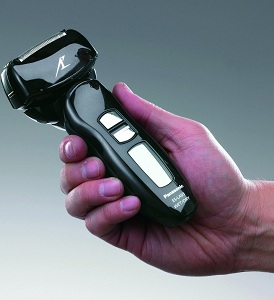 Though Arc 5 looks better, the design of this shaver is certainly classy with solid materials, luminous surfaces and perfect grip. Panasonic shavers are known for their quality construction and this one is certainly one of their best.
The primary concern with us while buying electric shaver is still closeness. Panasonic ES-LA93-K is an excellent choice for closeness with the ultra thin vibrating outer foil at only 41 micrometers and the 30-degree-angle hypoallergenic blades. It will cut hair at its base in the most efficient and comfortable manner. Moreover, this is 4-blade foil system. It makes shaving much faster and efficient. Most electric shavers including many high-end shavers sport only 2 or 3 blades.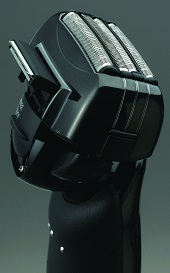 Some shavers though efficient in giving a close shave would still manage to irritate your skin because of the shaver head and quality. This one is absolutely comfortable on the skin, an ideal choice for people with sensitive skin. You don't have to press down upon your face to get a close shave which normally is the primary cause of razor burns. Wet shaving is even more comfortable compared to dry shaving.
The shaver will handle any facial contours and tricky areas with ease. The multi-flex pivoting head does wonders here. Panasonic ES-LA93-K shaver head pivots side to side and back to forth for a 360° pivoting head. I never had a problem shaving the neck or the jaw-line as I have had with other shavers.
Battery life is good with 45 minutes shaving time. That's like 12 shaves approximately for me. To fully charge the shaver it takes about 1 hour and if you're in a hurry you can always use the 5 minute quick charge feature.
Other features like the 10-stage LCD display, pop up trimmer and travel lock switch are nicely done adding to your convenience. This is definitely going to be the best electric shaver for many of us who don't compromise with quality and performance.
What I don't like
For me, the Cleaning and charging system is a bit too noisy, even allowing for what it can do, and it is not the best cleaning station on the market. The shaver head is big enough to create problems shaving certain areas.
Final Thoughts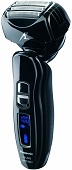 Panasonic ES-LA93-K Arc 4 shaver performs really well whether you shave dry or wet, with the grain or against the grain. You can't go wrong with this shaver if closeness and comfort matters, especially with over 400 customers giving positive feedback and ratings of 4 ½ out of 5 stars on Amazon.