Remington FR-730 Is Underrated – It Could Be Just What You Want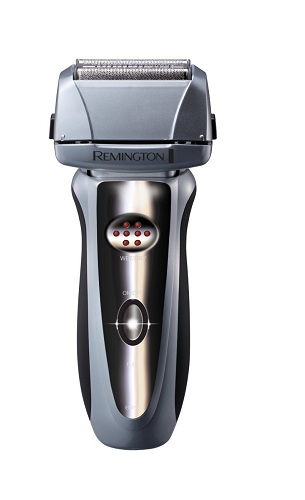 First things first, this is not the best electric shaver when you have heavy beard or if you are looking for closeness resembling that of a razor blade. But if you are looking a capable shaver, that won't burn a hole in your pocket, the Remington FR-730 is an ideal choice. For the same quality and efficiency you'll pay at least double the price of FR-730 with brands like Braun, Philips or Panasonic.
A lot of people underestimate Remington electric shavers. and not without reason. Though Remington shavers are 75 years old, there has been a sharp decline in quality over the years. That said, we have noticed that some of their latest shavers are now improving in quality, and like old times offer the great value for money. The FR-730 Pivot and Flex Men's shaver is one of the best choices among their latest creations.
So, if you have a beard of average thickness, and just need a decent shaver with decent features this Remington FR-730 will impress you, especially when you consider its price tag.
Check Price and Availability Here
Things I Like About Remington FR-730
Closeness
The shaver uses a 3 stage cutting system with two flexing steel foils and an intercept trimmer in between the foils. The two flexing steel foils are made of surgical steel and give a reasonably close shave. It is nothing like the 5 blade system from Panasonic or the Braun 7 series in closeness, yet I'd say maybe close enough for a shaver that costs only $70 (with discount).  It will read tricky facial contours and problem areas like the neck without much effort,with the pivot and full-flex technology of the shaver.
Much less Irritation
Among the many foil shavers, including high-end shavers, I'd vote for Remington FR-730 for an irritation free shaving experience. Maybe its got to do with the stainless, surgical steel, foils but I have zero irritation with this razor. My skin is somewhat sensitive, and no matter how good the shaver is, I always get irritation if I shave the same spot 2 – 3 times, but not with this shaver.
Easy Cleaning
The shaver is easy to clean. You can simple rinse under a running tap or if you prefer, remove the cover of the shaver head for a more thorough cleaning. It is very easy to attach and detach the foil covering of the shaver head. In fact, cleaning is so simple that you will not miss the automatic cleaning stations included with high-end shavers.
Others
Unlike some other foil shavers, this shaver is not too loud. It is quieter than most of those expensive foil shavers on the market. Moreover, the shaver is very light and comfortable to hold. Even the back trimmer is done nicely for a accurate and close cutting though I wouldn't expect the best result. The shaver comes with 2 years warranty. It offers very good battery life. Just like other top shavers a single charge will last for 60 minutes.
Things I Don't Like About FR-730
The shaver exterior is made mostly of plastic, and it looks cheap compared to other high-end shavers. You won't get the closeness of a razor blade nor that of other top shavers, but considering the overall job done by the shaver, for the price, it is not bad at all.
If you follow manufacturer's instructions, you need to replace the screen and blades at least once every 6 months which adds up to $60/year maintenance cost. This is rather expensive for a slightly above mediocre shaver.
Final Thoughts
Remington FR-730 is not a great shaver with all the "wow" factors, yet there is nothing much to complain about. In fact it will work very well for people with light to medium thick beards, but people with a heavy beard should probably look elsewhere, that said the FR-730 is a good buy for the price.