Why Most Men Choose Braun Series 7 790cc – Inclusive Review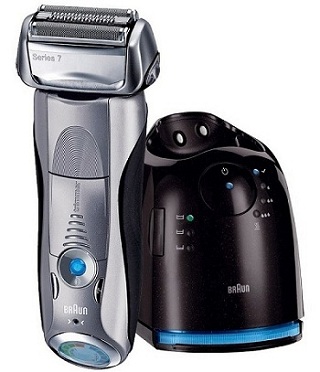 Only a few years back, Electric Shavers were questionable at best. They were very expensive and their performance fell far short of a close shave. Many consider them a total waste of money! Then, Braun came along with their series of innovative shavers that changed the concept of electric shaving for ever. This Braun series 7 790cc Pulsonic shaver system is Braun's Best of The Best.
If you read any Braun series 7 790cc review from other real users (click here) they are all pleased with the performance and quality of the shaver. Braun 7 Series is popular not because it is efficient and powerful but primarily because it gets down to details and fixes almost every shaving problem. Yet is remains reasonable priced.
Series 7 760CC Check Price and Availability Here
Series 7 790CC Check Price and Availability Here
Series 7 799CC Check Price and Availability Here
UPDATE: Braun has added another variant to their Series 7 shavers – BRAUN SERIES 7 799CC replacing Series 7 790CC as the top variant.  This new 799CC is capable of both wet and dry shaving at an additional cost of only $30. This is a great choice for those who prefer wet shaving for a more comfortable shaving experience with less skin irritation.

Since the arrival of Series 7 799CC, the discount for Series 790CC below the list price has been removed. Maybe, they'll discontinue the model. At this point, you'll get more value for your money to with the Braun Series 7 799CC.

If you want a cheaper Series 7 model and don't care for wet shaving, the Braun Series 760CC is a good option at a reasonable price. The differences between 790CC and 760CC are negligible. There is no metallic finish, no fast clean option and no automatic program selection with the Braun Series 760CC as compared to 790CC.
3 Reasons why Braun 7 Series is a Favourite
The most important thing for every shaver to deliver is the closeness. Not surprisingly some men use electric shavers just for convenience and if they want a close shave they switch to a razor blade. That won't be necessary with Braun series 7 790cc. You can expect a remarkably close shave from this electric shaver.
Let me explain why this is not like any other electric shaver. First it uses OptiFoil, an advanced foil shaver design to cut hair deeper to give the closeness we all desire. It features specially designed holes to do the task effortlessly and with utmost comfort.
This OptiFoil also helps capture more hair in fewer strokes, thus considerably reducing the time we spend shaving. Moreover, the shaver uses Pulsonic Technology that produces 10,000 micro vibrations per minute and thus cuts more hair faster.
Take a look at the Braun Series 7 shaver head below and notice the two OptiFoils at either side of the central trimmer.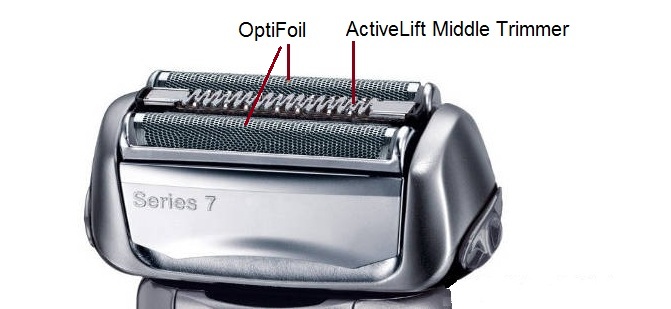 The second factor is comfort. Braun electric shavers are amazingly comfortable to use and this one is exceptional. We have faster liner motor drive shavers like Panasonic shaver Es-LV-81-K Arc 5 and Panasonic ES-LA93-K that are known to provide closer shaves in less shave time but none of these shavers can beat Braun 7 Series in comfort. If you have sensitive skin this is one shaver you can rely on.  Finally the shaver is also very comfortable to hold.
Finally, Braun 7 Series can handle problem areas like the neck and the jaw line very efficiently. Most shavers won't give a good result with these problem areas, whilst razor blades often leave cuts and bleeding. The flat lying hairs are always very difficult to handle. For this very reason, Braun introduced patented ActiveLift middle trimmer (see image above) which will cut flat lying hair without any difficulty.
Click Here to Read Customer Reviews on Amazon
Other Features That Make Shaving So Pleasurable
Contour Adaptive Shaving Head
The pivoting head of the shaver makes shaving a breeze. The shaver will easily adapt to the contours of your face and neck. Its flexible head ensures maximum facial adaptation and leaves no spot unattended. You'd rarely need to repeatedly shave the same area like we do with most shavers.
Personalization modes
We all have different types of hair and skin, which is why we need different shavers. It's hard to encompass every requirement for everyone into one shaver. But Braun Series 7-790cc Pulsonic shaver did a nice job by offering three personalization modes to adjust the shaver according to our skin and beard. You can choose Extra Sensitive, Normal and Intensive modes with this shaver.
Cleaning and Charging Dock
Cleaning your shaver after every use is essential to upkeep the performance, but the task can be tedious and time consuming. The clean and renew system of Braun Series 7 will automatically clean, lubricate, dry, scent and charge the shaver at just the press of a button. This not only enhances the performance of the blades but also extends the durability of the shaver.
The alcohol based cleaning solution also kills 99.9% of all germs and leaves a refreshing lemon scent. Braun series 7 is 100% waterproof and fully washable. If you would prefer it  without the cleaning and charging dock you can choose Series 7 720S.
The Downsides
The absence of wet shave is indeed a drawback. I may not be a fan of wet shaving but we all want a nice pampered wet shave from time to time. Normally both dry and wet shaves are available with other high-end electric shavers from Panasonic, Philips and Remington.
Braun Series 7 shavers now offer Wet and Dry shave with the latest Series 7 799CC. The only difference between Braun Series 7 799CC and Series 7 790CC is the Wet shave feature in 799CC and an additional price difference of $30.
Another concern is relating to cleaning fluid. Once the seal is broken, it tends to evaporate regardless of whether you use it or not. You can avoid this if you reseal the cartridge with the original cap.
Comparing to Braun Series 5
The Braun Series 5 comes without the Pulsonic technology which plays an important role in capturing more hair which is very useful especially for people with  athick beard. Equipped with faster linear motor drive, Series 7 can give you a closer shave and overall a better experience. The lack of personalization modes is another disadvantage with Series 5. However, series 5 is very reliable and offers better value for money if you don't have a tough beard. Braun 3 Series 340S-4 is also a great choice when you don't have thick facial hair.
Comparing the Different Variants of Series 7
| | Clean&Renew System | Fast Cleans | Hygiene Status Indicator | Display |
| --- | --- | --- | --- | --- |
| Braun Series 7 790cc | Yes | Yes | Yes | LCD display for battery status & hygiene |
| Braun Series 7 760cc | Yes | No | No | LED 5+1 for battery status |
| Braun Series 7 720s | No | No | No | LED 2+1 for battery status |
We recommend Braun Series 7 for efficiency, comfort and quality. This is one of the best electric razors your money can buy, an example of  German technology that will certainly impress you.